Is RERA mandatory for builders?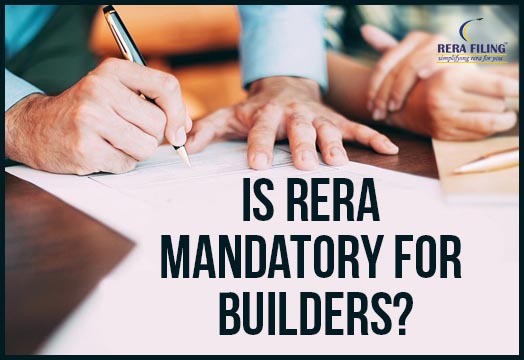 General

Thursday 1st August 2019
Author: Shreya Uppal
Highlights
Popped up with questions in our mind regarding Why, How, When, To Whom about the RERA Act, 2016 and so far so many of our articles must have taught you about the Why, When and even how must have been answered, I guess!!

Still, we all are confused with 1 question that whether RERA is mandatory for all builders or not?

So, the projects which are at the end stage and are able to obtain the Completion Certificate do not come under the ambit of the RERA Act, 2016.
We all are popped up with questions in our mind regarding Why, How, When, To Whom about the RERA Act, 2016 and so far so many of our articles must have taught you about the Why, When and even how must have been answered, I guess!! However, to whom part can be dealt with in this article.
Most of us know the main foundation of the RERA Act, 2016 which is to infuse transparency into the real estate sector, to protect the homebuyers, provide speedy dispute redressal and last but not the least to bring investments into the industry. Still, we all are confused with 1 question that whether RERA is mandatory for all builders or not? Many cases have reached to the various RERA authorities regarding the applicability of the RERA registration on them, due to which the questions lying pending and the penalty are levied on the builders, unnecessarily. Therefore, to end this confusion one should go through this.

The main intent to cover a project under the RERA Act, 2016 is to protect the consumers especially through the period of the construction of the project. Therefore, once a project has the completion certificate the risk to the homebuyer reduces thereby. So, the projects which are at the end stage and are able to obtain the Completion Certificate do not come under the ambit of the RERA Act, 2016.
Therefore according to the proviso of Section 3 (1) of the RERA Act, 2016, the projects that are ongoing on the date of the commencement of the Act and for which the completion certificate has not been issued, the promoter shall be required to make an application for the registration of the project within a period of 3 months from the date of commencement of the Act, which was 1st May, 2017 for all the states.
Further, the second proviso to Section 3 (1) of the RERA Act, 2016, clarifies that if the RERA Authority thinks necessary in the interest of the allottees, for projects which are developed beyond the planning area but with the requisite permission of the local authority, it may order the promoter of such project to register with the RERA authority.

Now, the question arises about, what is "Completion Certificate" exactly??
As per Section 2 (q) of the RERA Act, 2016, the "completion certificate" means the completion certificate, or such other certificate, by whatever name called, issued by the competent authority certifying that the real estate project has been developed according to the sanctioned plan, layout plan, and specifications, as approved by the competent authority under the local law.

Also Read: How to save your project from getting rejected from RERA authority

However, as per Section 3 (2) of the RERA Act, 2016 the following are not required to get their real estate projects registered with the RERA authority:
1. Where the area of land proposed to be developed does not exceed 500 square meters or the number of apartments proposed to be developed does not exceed 8 units or
2. The project is for the purpose of renovation or repair or re-development which does not involve marketing, advertising selling or new allotment of any apartment, plot or building, as the case may be, under the real estate project.

For Project Registration, Click here.

Tags: How to save your project from getting rejected from RERA authority? , allotment