Definition of Allottee in RERA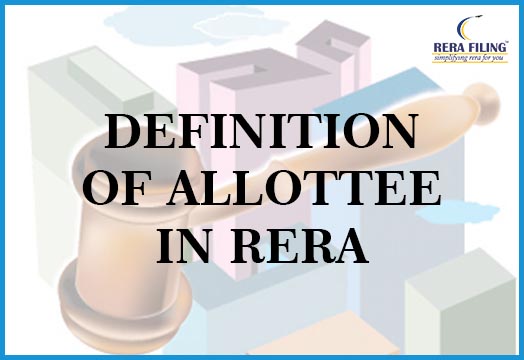 General

Friday 26th July 2019
Author: Shreya Uppal
Highlights
The basic motive behind the introduction of this act is to provide safety from all the malpractices the developers used to practice with the homebuyers.

The act seeks to protect homebuyers as well as help boost investments in the real estate sector.

he whole concept of the RERA Act, 2016 revolves around three terms: Allottee, Promoter, and Agents. Therefore a proper understanding of the term allottee is very essential to understand some of the proper provisions of the RERA Act, 2016.
The Real Estate Regulation and Development Act, 2016 is a nationwide act passed by the Lok Sabha on 15th March, 2016 thereby enforcing it on 1st May, 2016 with 59 of 92 sections notified and the rest provisions came into force on 1st May, 2017. The basic motive behind the introduction of this act is to provide safety from all the malpractices the developers used to practice with the homebuyers. The act seeks to protect homebuyers as well as help boost investments in the real estate sector. With the RERA Authorities set up across the nation with its own state rules continues its work with the sole purpose to provide transparency and speedy dispute redressal for all the grievances addressed by the homebuyers.

The whole concept of the RERA Act, 2016 revolves around three terms: Allottee, Promoter, and Agents. Therefore a proper understanding of the term allottee is very essential to understand some of the proper provisions of the RERA Act, 2016.
Also Read: Role of Real estate agents in RERA

The RERA Act, 2016 applies on the agreement for sale as defined by Section 2 (c) of the RERA Act, 2016 which means an agreement entered into between the promoter and the allottee.
As per Section 2 (d) of the RERA Act, 2016- "allottee" in relation to a real estate project, means a person to whom a plot, apartment or building, has been allotted or sold or otherwise transferred by the promoter, and also includes the person who subsequently acquires the said allotment through sale but does not include a person to whom the plot or apartment is given on rent.

For Agent Registration, Click here.

Tags: Role of Real estate agents in RERA