Revocation under the RERA Act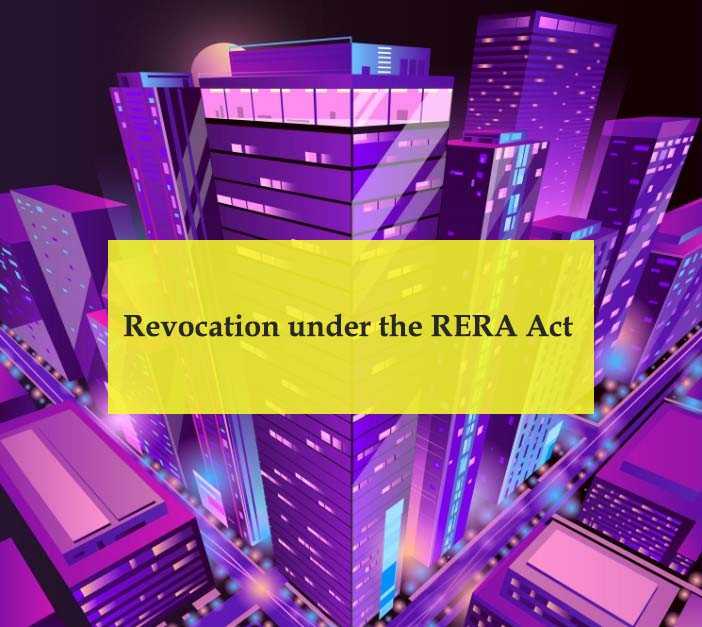 General

Saturday 11th June 2022
Author: Neha Singh
Highlights
When a buyer makes a complaint, in that case, the competent authority can revoke the registration granted under section 5 of the RERA Act, 2016.

The promoter is given a notice of 30 days to mention the reason for the non-cancellation of their registration.

The RERA Authority prepares a list of defaulters and their photographs on the website and informs all the other RERA Authorities
The real estate sector is one of the most prospering sectors in India. Despite holding a major contribution to the GDP and infrastructure of the nation, the real estate sector remains unorganized. Cases of incomplete projects delayed possession, and poor construction quality had become a part of it. Keeping all these aspects into account, a regulatory body under the name RERA Act came in.
The RERA Act empowered the authorities to keep a close check on the developers on their project development. This Act helped the buyers protect their rights and keep a close eye on the project's development. One such part of the Act is the revocation of registration under Section 7 of the RERA Act 2016. The following section of the blog highlights the details of the revocation of the RERA Act 2016.
In-depth insight into the revocation of the registration:
When a buyer makes a complaint, in that case, the competent authority can revoke the registration granted under section 5 of the RERA Act, 2016.

The RERA Authority must be sure that the promoter is at fault in adhering to the terms and conditions of the approval given by the RERA Authority or that the promoter is involved in any illicit activities or irregularities.

The promoter is given a notice of 30 days to mention the reason for the non-cancellation of their registration.

There is also a provision wherein the authority may not revoke the registration, but they can introduce some other terms and conditions favoring allottees.

The RERA Authority will inform the promoters about the revocation via Form D.
Steps taken under the revocation of registration
The following segment highlights the steps of revocation of registration as per Section 7(4) of the RERA Act, 2016:
When the promoter gets the complaint against him, and there is a revocation of registration, the promoter is debarred from accessing the website related to the project.

The RERA Authority prepares a list of defaulters and their photographs on the website and informs all the other RERA Authorities.

The RERA Authority also directs the bank to freeze the account and take the necessary action.

The authority also facilitates the remaining development work, which is carried out per Section 8 of the RERA Act, 2016. This also includes the de-freezing of the account to ensure that the remaining development works continue seamlessly.

The authority also makes necessary changes and directions to protect the rights of the allottees.
What is an unfair practice as per Section 7 of the RERA Act, 2016?
It defines the purpose of promoting or selling the project following unfair means or illicit practices that include:
The promotes or advertises any information or news regarding the project and services offered that they don't intend to offer.

The promoter is involved in fraudulent practices

The promoter has represented false services.
With the introduction of the RERA Act, the buyers' rights are protected, and it also ensures that the developer is adhering to standard practices.