What is Relinquishment deed?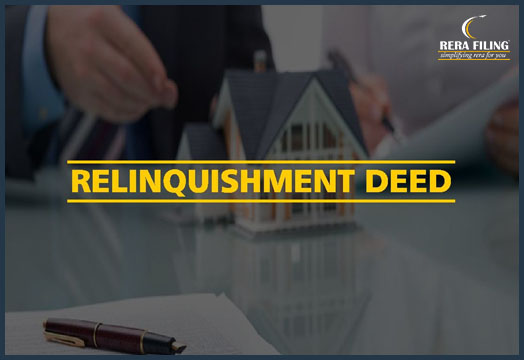 General

Monday 12th August 2019
Author: Shreya Uppal
Highlights
Relinquishment means the surrender of rights, title and interest by one co-owner in favour of other co-owners.

It is generally a release deed which is used to transfer ownership when a person dies or dies without leaving behind a will and his heirs inherit his property as per the provisions of the Hindu Succession Act, 1956

The proportion of shares owned by each heir upto the creation of the relinquishment deed shall be mentioned.
It is a legal document where a legal heir releases his rights in a joint property in favour of other legal heirs so that enlargement of shares of other co-owners can be done. Relinquishment means the surrender of rights, title and interest by one co-owner in favour of other co-owners.
It is generally a release deed which is used to transfer ownership when a person dies or dies without leaving behind a will and his heirs inherit his property as per the provisions of the Hindu Succession Act, 1956. One needs to get register the relinquishment deed in the records of DDA, MCD or any other local authority. In order to cover a loophole, a relinquishment deed needs to be scrutinised by the Sub-Registrar because it is often used to save the stamp duty payable on a gift deed. Relinquishment made in favour of a person who is not a co-owner of the property shall be treated as the transaction of gift and shall attract stamp duty payable on the gift deed.

Some of the steps involved in the registration of Relinquishment deed are:
1. It is prepared by the Advocate/ legal expert.
2. It needs to be stamped.
3. The registration fee of the Government is to be paid.
4. On a particular fixed date, both the parties and 2 witnesses need to visit the Sub-Registrar office for the registration of release deed.

Also Read: What is Encumbrance Certificate?

Contents of Relinquishment deed:
1. Introduction/Title part-It should contain the title "Relinquishment Deed" along with the date of creation of the document.
2. 2 involved parties in favour of whom the deed shall be executed
3. Property description-Details such as a complete address, survey number, registration details, etc. with respect to property must be mentioned.
4. Purpose of the execution of the deed- The clear purpose of the execution should be mentioned therein.
5. Heir details- The details of all the existing heirs to that property along with their relationship with the deceased owner shall be contained therein.
6. Share details- The proportion of shares owned by each heir upto the creation of the relinquishment deed shall be mentioned.
7. Signatures- It shall be signed by both the parties and attested by two witnesses at the concerned Sub-registrar office where the property is situated.

For Project Registration, Click here.

Tags: What is Encumbrance Certificate?, property