Penalty order issued by TSRERA for registration of projects between 1st July to 31st July, 2019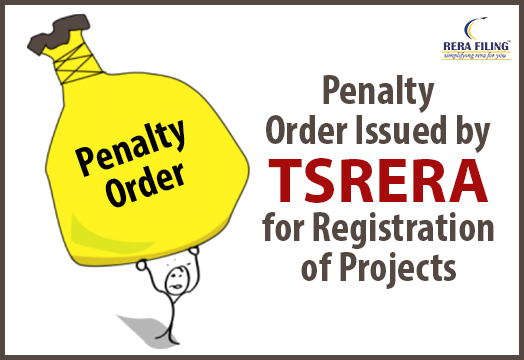 General

Wednesday 3rd July 2019
Author: Shreya Uppal
Highlights
As per Section 3(1) of the Real Estate (Regulation and Development) Act, 2016 it is mandatory on the part of the promoter to make an application for registration of ongoing projects within a period of three months from the commencement of the Act.

Builders to pay penalty of Rs 3,00,000 for ongoing project registration

If the promoter does not agree to pay the penalty, his application shall get rejected
An order dated 29/06/2019 has been issued by the TSRERA to levy penalty on various projects which is effective from 29th June 2019 onwards. As per Section 3(1) of the Real Estate (Regulation and Development) Act, 2016 it is mandatory on the part of the promoter to make an application for registration of ongoing projects within a period of three months from the commencement of the Act.

On 31st August 2018 the TSRERA has announced the timelines to register the projects before 30th November 2018 through online for the projects approved by the competent authorities i.e. UDA's/ DTCP/ Municipal Corporations/ TSIIC between 01/01/2017 and 31/08/2018.

Several press notes, show cause notices have also been issued for the registration of the projects on or before 30th November 2018 clearly mentioning the proposed actions to be taken as per the provisions of the Act to be initiated from 1st December 2018.

However, during the meeting held on 29th June 2019 by TSRERA, it has decided to levy the penalty and give the developers a fair chance again to register the projects. Therefore, in the exercise of the powers vested under section 59 of the Real Estate (Regulation and Development) Act, 2016. The TSRERA has once again decided to give more opportunity by charging Rs. 3,00,000 as a penalty, if registration is done or before 31/07/2019. It has decided to keep the process of registration of ongoing projects open for which permission has been taken between 01/01/2017 and 31/08/2018 from the competent authorities.

After the application has been made by the promoter, the Authority would communicate through a pop-up notice/e-mail to the promoters, who have uploaded their application between 1st July to 31st July 2019 asking them to pay an online penalty for the late registration.
If the promoter does not agree to pay the penalty, his application shall get rejected as per the provisions of Section 5(1) (b) of the Real Estate (Regulation and Development Act), 2016.
For project registration in Telangana,contact us.