Quarterly Compliance for Madhya Pradesh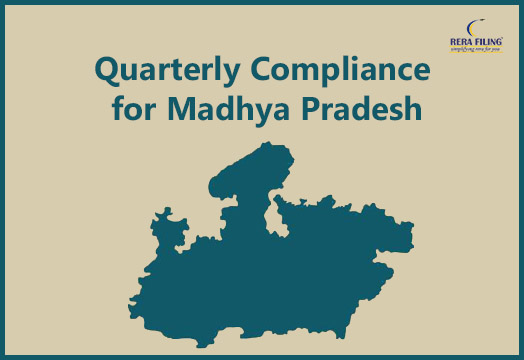 General

Wednesday 12th June 2019
Author: Shreya Uppal
Highlights
The RERA Act, 2016 became effective from 1st May, 2016 with 69 sections notified out of 92 sections.

The Ministry of Housing and Urban Poverty Alleviation notified the RERA rules for RERA Madhya Pradesh on 22 October, 2016 to protect buyer's interest, enhance professionalism and ensure transparency in the real estate sector.

To infuse transparency into the system and have a Control Mechanism over the ongoing projects of the registered developers, the RERA Authority has come up with the Quarter
The RERA Act, 2016 became effective from 1st May, 2016 with 69 sections notified out of 92 sections. The Ministry of Housing and Urban Poverty Alleviation notified the RERA rules for RERA Madhya Pradesh on 22 October, 2016 to protect buyer's interest, enhance professionalism and ensure transparency in the real estate sector.
To infuse transparency into the system and have a Control Mechanism over the ongoing projects of the registered developers, the RERA Authority has come up with the Quarterly Compliance system. As per Section 4(2)(I)(D) of the RERA Act, 2016 a separate account has to be maintained in which 70% of the amount collected from the homebuyers shall be deposited which shall strictly be used by the developer in its project only. After submitting documents of quarterly compliance with the banks stating the % completion of work, this separate account amount can be withdrawn. Hence, this act as a tool of governance to verify the actions.

What is Quarterly Compliance?
1. Every quarter the developers need to submit various documents regarding their proportionate completion of the project.
2. The trio of sequential documents of Architect Certificate (Form 1), Engineer Certificate (Form 2) and Chartered Accountant Certificate (Form 3) is categorized as RERA Return.
3. Also, the no. of flats sold, booked and leased with their respective construction status need to be informed.
4. The RERA Quarterly Compliance Checklist includes the following:
(a) % of Water Supply completion.
(b) % Completion of Internal Walls, Internal Plaster, floorings within flats/premises, etc.
(c) Installation of lifts, water pumps, Fire Fighting Fittings and Equipment as per CFO NOC, Electrical fittings to Common Areas, electro, mechanical equipment, Compliance to conditions of environment /CRZ NOC, Finishing to entrance lobby/s, plinth protection, Compound Wall and all other requirements.
(d) % Completion of Staircases, Lifts Wells and Lobbies at each Floor level connecting Staircases and Lifts, Overhead and Underground Water Tanks.
(e) The status of approvals- received, applied & expected the date of receipt, to be applied & date planned for application, Modifications, amendment, revisions issued by competent authority as to license, permit/approval for the project.
For Project Registration, Click here.