Quarterly Compliance for Andhra Pradesh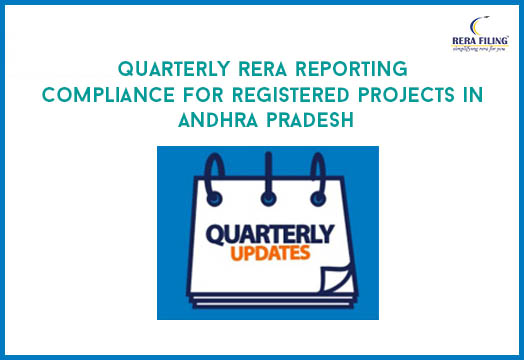 General

Author: Shreya Uppal
Highlights
The RERA Act, 2016 became effective from 1st May, 2016 with 69 sections notified out of 92 sections. The State Government prescribed the rules on 31st October, 2016. The Ministry of Housing and Urban Poverty Alleviation notified the RERA rules for RERA Andhra Pradesh on 27 March, 2017 to protect buyer's interest, enhance professionalism and ensure transparency in the real estate sector. Finally, an Interim authority was constituted by the state on 1st May, 2017 with full implementation of all
The RERA Act, 2016 became effective from 1st May, 2016 with 69 sections notified out of 92 sections. The State Government prescribed the rules on 31st October, 2016. The Ministry of Housing and Urban Poverty Alleviation notified the RERA rules for RERA Andhra Pradesh on 27 March, 2017 to protect buyer's interest, enhance professionalism and ensure transparency in the real estate sector. Finally, an Interim authority was constituted by the state on 1st May, 2017 with full implementation of all the sections in the Act. From 5th February, 2018 onwards it initiated the process of Online Registrations for Agents, Promoters and the Projects.

To infuse transparency into the system and have a Control Mechanism over the ongoing projects of the registered developers, the AP RERA Authority has come up with the Quarterly Compliance system. As per Section 4(2)(I)(D) of the RERA Act, 2016 a separate account has to be maintained in which 70% of the amount collected from the homebuyers shall be deposited which shall strictly be used by the developer in its project only. After submitting documents of quarterly compliance with the banks stating the % completion of work, this separate account amount can be withdrawn. Hence, this act as a tool of governance to verify the actions.

What is Quarterly Compliance?
1. Every quarter the developers need to submit various documents regarding their proportionate completion of the project.
2. The trio of sequential documents of Architect Certificate (Form 1), Engineer Certificate (Form 2) and Chartered Accountant Certificate (Form 3) is categorized as RERA Return.
3. Every quarter the developer needs to update the Floor details with the construction status for each floor with some of the photos as proof of the construction.
4. Also, the no. of flats sold, booked and leased with their respective construction status need to be informed.

With all these steps and procedures, the authority is creating a check on the registered projects to stay updated with their growth. Thanks to RERA for giving relief to the homebuyers!!