MAHARERA issues a clarification in relation to Separate Bank account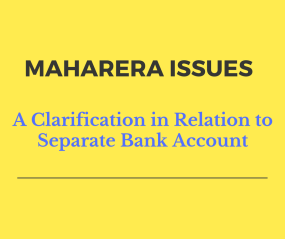 Friday 30th June 2017
Author: Riya Kapoor
Highlights
The amount in a separate bank account can be withdrawn only after a certificate of an Engineer, architect and a practicing chartered accountant

Only interest payable to financial institutions, scheduled banks, Nonbanking Financial institution(NBFC) or money lenders on construction funding or money borrowed for construction should be added to the cost of construction

For every phase of the project , separate registration needs to be obtained and thus separate bank account needs to be maintained
Real Estate (Regulation & Development) Act 2016 has been implemented in entire India from 01 May 2017. As per the RERA act, promoters are required to maintain a separate bank account for every project in which 70 % amount collected from allottees will be deposited. Funds deposited can only be utilized for land cost and construction cost of that project. This clause will make certain that funds are not diverted and utilized for that project only.
The amount in a separate bank account can be withdrawn only after a certificate of an Engineer, architect and a practicing chartered accountant certifying that amount withdrawn is in proportion to the construction of the project.
Recently, MAHARERA issued a clarification with respect to usage of funds deposited in a separate bank account.The amount withdrawn can only be used for land cost and construction cost. MAHA RERA clarifies that cost of construction of project should not include brokerage and marketing expenses.These expenses should not be borne from the deposited amount.
Circular states that "Only interest payable to financial institutions, scheduled banks, Nonbanking Financial institution(NBFC) or money lenders on construction funding or money borrowed for construction should be added to the cost of construction".
MAHARERA also issued a circular on 11th May 2017 regarding Definition of the promoter and their revenue share which states that every co-promoter entitled to share of the total area developed need to maintain a separate bank account for depositing 70 % amount collected from allottees. In order to withdraw the amount from the separate bank account, co-promoter will be treated on par with promoters.
For every phase of the project, separate registration needs to be obtained and thus separate bank account needs to be maintained.
So In RERA regime Promoter needs to manage their liquidity well. Definitely, managing these funds is going to be a daunting task for promoters.
How effectively these clauses will be implemented is still to be seen.
TAGS: - Real Estate (Regulation & Development) Act 2016, MAHARERA, PROMOTER