Real Estate Regulatory Act (RERA): 5 ways it will benefit homebuyers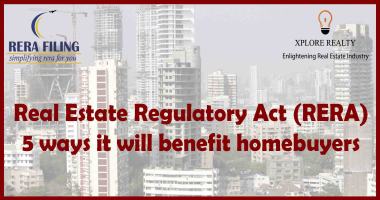 Highlights
Establishment of the state authority and vest authority on the Real Estate Regulator

No unnecessary delays in project

It will improve the relationship between the developers and homebuyers

It will be ultimately lead the sector to attract more FDI and improve the feasibility of the financing options available into the market
RERA is taking into consideration and trying to improve things for better so that the buyers of real estate no more need to suffer during the process.
The Real Estate Regulatory Act (RERA) is set to come into effect from May 1, 2017. RERA is set to offer a lot of benefits that will help the homebuyer in multiple ways. It has taken into account the considerations while improving the things for better. It aims to make the process user-friendly for the customers. The Act will come to the rescue and safeguard the homebuyers in these 5 ways:
First and foremost benefit of RERA is that it will establish the state authority and vest authority on the Real Estate Regulator to govern residential as well as commercial real estate transactions. It will further improve the governance while holding on to the real estate sector, reducing the disputes amongst the parties to a great extent. The Real Estate Regulatory Authority of the State will ultimately become the governing body with the grievances problems. The issues will now be addressed for the solutions.
Secondly, the rules of the RERA to deposit the total of 70% of the funds into a dedicated account further ensures that sufficient funds for the desired project. It will speed up development and completion time. Thus, ensuring timely delivery of the project, which is indeed, one of the main concerns for the homebuyers. This step helps to bring timely delivery and brings a big relief for the homebuyers.
Thirdly, another benefit of RERA for the buyers is that it aims to bring more clarity in the deals between the homebuyers and developers leaving all sorts of ambiguities. Now the transactions and deals will become specific so that homebuyers need not suffer unnecessarily later due to the lack of clarity.
Fourthly, transparency brought into the deals and transactions will improve the relationship between the developers and homebuyers. As and when the deals and transactions become cleared, they become transparent benefitting the homebuyers as they become more aware of their purchase.
Last but not the least, the RERA assures to bring in more clearance in the Real Estate sector. It will be ultimately lead the sector to attract more FDI and improve the feasibility of the financing options available into the market. As a result, there will be more investments, inviting even more FDI making the system time and buyer friendly.
Taking into consideration all these factors, the ultimate beneficiary is going to be the homebuyer